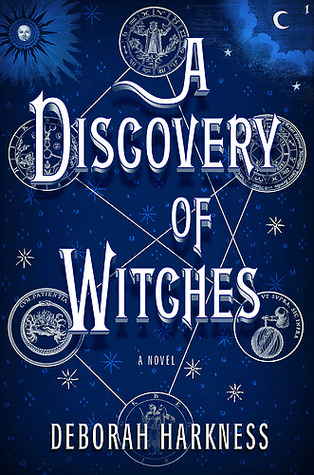 This book was once again on my library's staff recommendation list and I decided to check it out. Even though this book is quite long, 579 pages, it only took me a couple of nights to read. I could not put this book down, almost like I was under a spell to complete it. Now, I am going to have to read the other books in the series to find out what will happen to the main characters!
What I really loved about Deborah Harkness was her writing style. This book was extremely well written and you could tell that the author is a very accomplished academic. It had a very nice flow to it and its contents were very easy to follow. There was also a great deal of history woven into its contents, which made it read a little like a historical fiction piece. With all of the sensory details that Harkness put into the novel, you get transported to another world and it envelops you. It may even haunt you a little as well.
Normally, a love story would be off putting to me and are things that I do not gravitate to. However, I was drawn in and wanted to see how the love between Diana and Matthew would pay out. This is also why I now need to read the next two books in the series! A union between a vampire and witch seems interesting and one that is rarely done. It brought forth a great deal of questions, which is something that I like while reading. If everything is given to me without allowing me to fill in some of the blanks, I tend to lose interest fairly quickly.
The only complaint that I have is that the point of view shifts between first person for Diana's passages and third person with all of Matthew's passages. I tend to be a little old fashion and would like the point of view to stay the same throughout the piece. For this novel, that had to happen for everything to be explained and worked for it, but I still would have liked it to be consistent throughout.
If you like supernatural romance fiction, then you will enjoy this book immensely. If you do not like romance and feel that it should not have any place in supernatural fiction, then you might want to pass this one up.
Rating: 4.5 out of 5
I checked this book out of the local library; I was not asked to do a review of this book. The image was borrowed from Good Reads.